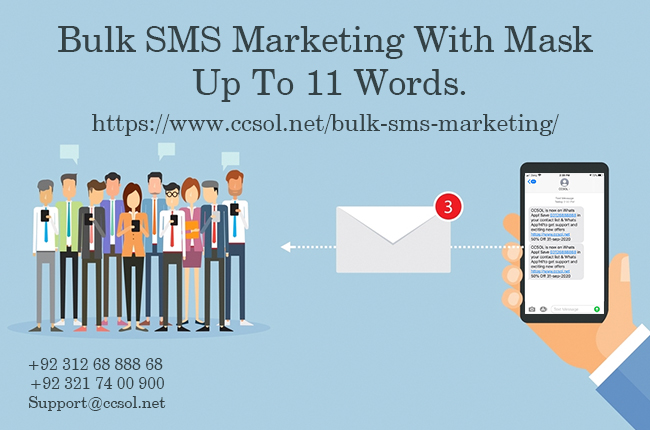 Price & Packages "Lowest Rates in Pakistan"
30 Days Bundle
SMS Count
Rate
Validity
10000-49999
0.68
30 days
50000-99999
0.66
30 days
100000-199999
0.64
30 days
200000-299999
0.62
30 days
300000-399999
0.6
30 days
400000-499999
0.58
30 days
500000-50000000
0.56
30 days
90 Days Bundle
SMS Count
Rate
Validity
10000-49999
0.6
90 days
50000-99999
0.58
90 days
100000-199999
0.56
90 days
200000-299999
0.54
90 days
300000-399999
0.52
90 days
400000-499999
0.5
90 days
500000-749999
0.48
90 days
750000-999999
0.46
90 days
1000000-50000000
0.44
90 days
180 Days Bundle
SMS Count
Rate
Validity
10000-49999
0.72
180 days
50000-99999
0.7
180 days
100000-199999
0.68
180 days
200000-299999
0.66
180 days
300000-399999
0.64
180 days
400000-499999
0.62
180 days
500000-749999
0.6
180 days
750000-999999
0.58
180 days
1000000-1249999
0.56
180 days
1250000-50000000
0.54
180 days
Get your brand/institute/business name with Mask of your own choose with up to 11 words from CCSOL.
What does MASK Mean?
A message with the name of your own business brand.
It can be sent to Unlimited contacts.
For Example: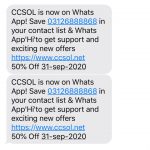 1-Online web-login.
2-No need for any mobile/device. (Mobile App "Android Only")
For Example: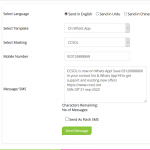 Book Your MASKED SMS NOW:
Admin Panel Features:
Send bulk SMS broadcasts (up to 1000-1200 in a min) and view report real time
Easy to use user interface
Reduce learning curve by using its familiar Email client type look and feel
Easy Functionality
Create, edit, send, and delete SMS messages
Scheduled SMS
Send SMS on scheduled date and time
SMS text limit
Send messages up to 160 characters, however, our system supports long sms i.e, upto 300 characters.
Address Book
Convenient online address book to store mobile numbers
Password Protected Web Access
Password protected Web access for anywhere convenience
Branding "CCSOL"
Use "Sender Branding" to display sender of message as any alphanumeric brand or number of choice (up to 11 Characters)
Mobile Number Portability
There is no issue if any customer changes his network, he will receive a sms.
If you are looking to have Bulk SMS Marketing for your Business we are just one call away!